Simone D'Annunzio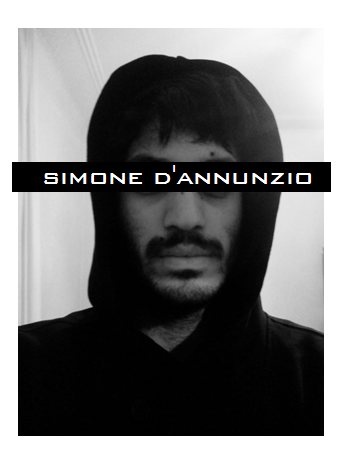 Albums ( as Simone D'Annunzio ):
"Death's Amore" (2014, Tapes series)
S L O W (2015, Tapes section)
V O I D (2016, Black section)
Albums ( as Psycoton ):
Tenebre (2012, Blue section)
S/T (2012, Blue section)
Info:
Experimental
Noise, Ambient, Electronic, Minimal
Simone D'Annunzio is an Italian guy who likes making noise. That's all.
Currently playing in Le Scimmie.
Un corpo morto, un peso caduto nel vuoto. Disturbi autodistruttivi agonizzanti ed infettati dalla malattia.
Musica di merda senza via d'uscita, solo l'illusione di una nuova rabbiosa violenza.
Terrorismo musicale che ha trovato una forma.
Funzio - Vasto (Ch), Italia 
A dead body, a weight fallen in the void. Self destructive disturbances, agonizing and infected by disease.
Shit music without any exit, just the illusion of a new furious violence.
Musical terrorism has found its form.
From Vasto (Ch), Italy.